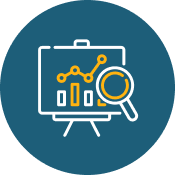 Media Planning & Buying
With consumer behavior and media consumption ever changing, businesses have a growing variety of marketing options available. Knowing which media partners to utilize can be overwhelming and planning campaigns can be tricky to navigate.
Media Savvy offers a unique process to leverage longtime media partnerships to collaborate with advertisers. We are committed to help our customers thoroughly understand the finite details of their business goals, define target customers, and deliver results.
With over 30 years experience, the Media Savvy team researches our customers unique market and evaluates critical data to devise a media plan that works within defined marketing budgets. We develop customized plans that will efficiently reach your targeted audience. Our relationships, experience and connections go a long way to secure the most efficient media costs – which in turn gives our customers increased return for their advertising dollar.
Bottom line – we want to bring our relationships and know-how to the table and help our customers reach and exceed their goals. At Media Savvy we don't want to be just another vendor, we want to help you grow as a partner that builds value to your marketing efforts, drives revenue, and strengthens your business.

Television Campaign Planning and Placement
Broadcast / Cable
Over the Top (OTT)
Conntected TV (Roku,
Hulu, etc.)
Sponsorships

Radio Campaign Planning and Placement
AM/FM
Streaming (Pandora /
Spotify, etc.)
Sponsorships


Production and Creative Services
Audio
Video (Broadcast and Online)
Digital (Display and Video)
Print (Newspaper, Branding, and more)
Out of Home (Traditional and Digital Billboards)
Corporate Videos (Training, CE, and Branding)


Outdoor Billboard Planning and Placements
Static Boards
Digital Boards
Rotary Programs

Website Design and Development
WordPress
Mobile Optimization
Responsive Site Development
App Development
Content Development
E-Commerce Sites


Digital Advertising
SEO / SEM / PPC
Google AdWords Campaigns
Listings Optimization & Management
Reputation Management
Online Banner / Display Advertising
Online & Mobile Video


Social Media
Social Site Branding
Content Development
Social Ads Management


Graphic Design
Logo Design
Branding and Display
Promotional Advertising
Corporate Identity


Print Advertising
Ad Layouts - Magazine & Newspaper
Brochures and Flyers
Promotional Items
Business Cards


Jingles
Create a customized memorable jingle that will set your company apart from the competition.